Update (Dec 2018): This is a really old post now, but something I reflect on regularly. I have some related posts at the bottom. Since this review in 2014, Edutwitter seems more divided, which is a shame; we all want the very best learning for our kids, and our contexts can be dramatically different. The more I see this, the more I'm convinced that truly creating a culture of thinking is what can unite contrasting viewpoints, transcend programmes and help focus on quality implementation. 
Since this post was originally written, a lot of new resources have come out around learning science, which are also really useful. There is a greater push in the IB world towards learner agency and I'm now working in a school making some really bold moves towards the future of learning. These ideas are not mutually exclusive and they have a lot to complement each other. It is our privileged position to build models of what they could be and share the journey as we go. 
The body text is unedited from 2014, except where strikethroughs indicate change. 
……….o0O0o……….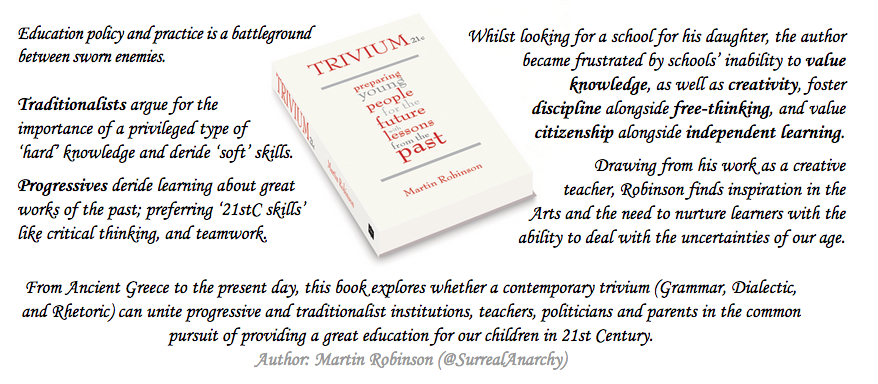 I recently finished Martin Robinson's (@SurrealAnarchy – now @Trivium21C) excellent Trivium 21C: Preparing young people for the future with lessons from the past, the author's journey through the history of education to find the inspiration for the education he wants for his young daughter. As I read I became more and more convinced that he was essentially describing a high-performing International Baccalaureate education, combining a well-taught, high-quality curriculum (the Grammar), with the development of skills and wisdom to really inquire through critical reflective thought (the Dialectic). With the grammar aligning with a more traditionalist view of education and the dialectic with a more progressive set of methods, Robinson's book hits very close to my own views and ideals on education and where I want it to go: a set of principles and practices that combine the best of both worlds. The third element of the Trivium, the Rhetoric, is the capacity and engagement of the student in performance, communication, discussion, presentation and participation in authentic and meaningful (global) communities.
Along the way, Robinson takes us through the history of education, from the ancient Greeks to now, at each step highlighting the competing paradigms of learning. It seems as though the progressive vs traditional debate mud-fight has been raging since long before the written word! He interviews leading educational thinkers on both sides of the progressive/traditional divide and my thoughts on Ken Robinson's TED Talks agree generally with his – we do need content in our curriculum, but we need to ensure it is the right stuff, taught well. What is the culture we want to preserve into the future?
What does a Trivium 21C education look like?
Robinson describes the grammar and dialectic as cyclic in nature, the grammar (content) giving the raw materials for the dialectic (inquiry). The rhetoric is ongoing, connecting the student's learning to the wider world through communication. The diagram below is my attempt to summarize Trivium 21C in one graphic.
Is an IB Education a Trivium Education?
Robinson's descriptions of his Trivium 21C align very closely with the principles and practices of a well-implemented continuum of an IB education. Although an IB education is inquiry-based, we need to be careful to define this inquiry as critical reflective thought; guided inquiry based on a strong curricular and pedagogical foundation. Inquiry in the PYP may well be open-ended and student-directed, but the rigorous planning and careful, responsive teaching that takes place are exemplary to all teachers. The assessment descriptors of the MYP, as well as the broad and balanced, concept-based approach to the student's total curriculum give a rounded and challenging experience. Founded on strong unit planning and vertical and horizontal articulation of curriculum, there should be room for inquiry, as well as effective preparation for the higher-tension IB Diploma. In the Diploma itself we see the broad and balanced approach remain as students study not only six subjects, but really exercise their dialectic and rhetoric muscles through the Theory of Knowledge, 4,000-word Extended Essay and challenging learning outcomes of Service (MYP) and Creativity, Action and Service (IBDP).
IB Learner ProfileThe philosopher kid of Robinson's Trivium21C is the embodiment of the IB's Learner Profile. Towards the end of the book, Robinson makes mention of the IB's programmes, referring to the dialectic and rhetorical nature of the Theory of Knowledge course in IBDP, the criterion-related assessment of the MYP and the rhetorical (participatory) elements of Creativity Action and Service.
The hierarchical nature of assessment descriptors in the MYP and DP highlights the content-first (Grammar) approach to teaching, learning and assessment. Students can experience success with a good level of content knowledge, but to really excel they must put it to action, with the higher-order command terms driving the higher achievement levels (explain, analyse, evaluate, design, for example).
On paper, an IB education would seem to have all that Robinson seeks in the Trivium 21C, but even within this globalized framework for an international education there is a high degree of variability. This is key – a well-implemented IB continuum of programmes has it all. A poorly-implemented programme may lack in one or more elements of the Trivium; however the frequent and constructive programme evaluation processes in place with the IB should help schools improve.
……….o0O0o……….
Recommending the Book
I highly recommend reading this book, though it is not a quick read by any means; you may well need a note-pad. It has a cast of characters greater than Game of Thrones, yet you'll feel less soiled once finishing (and none of the ideas are killed off in such gruesome ways as GRRM does his creations). It is quite high-altitude, and though I'd like to recommend it to new teachers, it might not be the practical volume they need to survive. It is an excellent provocation for school leaders and coordinators, as well as those studying curriculum development and educational policy at a more academic level. I would certainly recommend it to anyone who places themself on either side of the progressive/traditional education debate.
……….o0O0o………..
Personal Reflection
Both Robinson and I share many values and ideas on the education we want for our children. I have the deep privilege of not only being able to choose it for my own kids, but of being in a position where I can help shape it through an IB education. I want my kids and the learners in my school to be excited, globally aware and motivated to learn more, following purposeful lines of inquiry, built on solid foundations.
Over the last couple of many years, my thinking on education has matured, largely as a result of experience in teaching coordination and curriculum development, but also as a result of taking a more academic approach to learning through my MA studies.
………o0O0o………..
The following selection of blog posts are related: 
……….o0O0o……….
Some alternative versions of the graphic
This slideshow requires JavaScript.