This week we used the Wednesday PD time to set up formal collaborative reflection on units. Nothing ground-breaking, perhaps, but an opportunity to have good discussions with colleagues about how the planned and taught curriculum are matching up, how we are meeting students' needs and how we are thinking purposefully about connecting articulation and action in the classroom.
The emphasis was on conversations before computers and questions before suggestions, with the departments first talking through one unit together then breaking into planning pairs/groups to reflect on a unit each. The remaining time was given to capturing the reflections in ATLAS. We will repeat this periodically through the year, and it is hoped that HOD's will continue the model when their departments meet for planning and reflection.
……….o0O0o……….
A quick personal reflection. 
I feel like we're turning the corner – culturally and professionally – at the school.
I feel like discussions are far more positive and collegial than when I first arrived a couple of years ago. I know in Science we are having more conversations across MYP-DP and MS-HS, and we are learning a lot from each other. As a faculty we're making incremental progress towards seeing planning (and ATLAS as its vehicle) as being central to the development of both quality curriculum and effective practices. Student learning is the focus of our discussions and the great work that all teachers are doing across the school is becoming more apparent with every week. This is a good school of good people doing good things and getting better.
Like any school, there is still a lot of work to do, but I am proud of what we are accomplishing and am grateful to be a part of the process. In terms of curriculum leadership we're providing structure and resources to allow departments and teachers to get on with their own learning as professionals and trying to give them the opportunity to explore and grow together. We will cycle through curriculum, differentiation, tech and planner hotspots, student learning goals and reflection through the year, and as MYP:NC guides come out will look at how best to prepare for next year.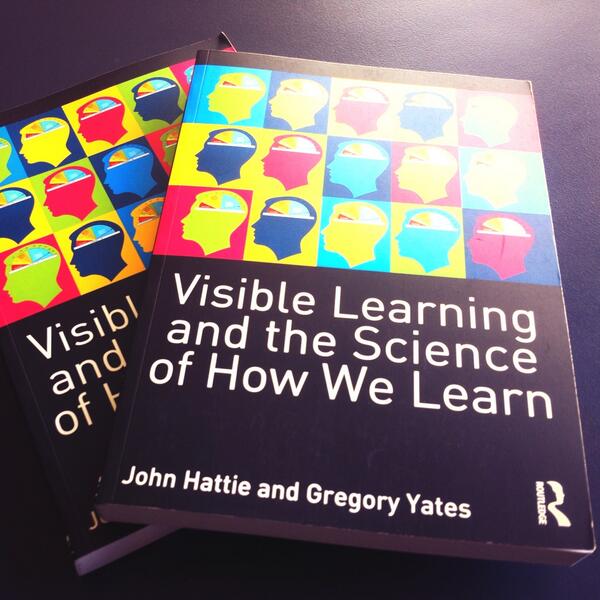 I am super-excited about our Teacher Learning Communities focus for the year, based loosely on Dylan Wiliam's framework for Embedded Formative Assessment and using Hattie's Visible Learning to focus group learning on practices that work, in order to help us meet professional goals, student learning goals and to better meet the needs of our students. I'm a Hattie fan-boy (his new book, 'Visible Learning & the Science of How We Learn' arrived today), and based my IBAP presentation MYP: Mind the Gap on his work. It is really accessible and great as a stimulus for thought and further learning. I hope all teachers are as enthusiastic about this opportunity as I am – this kind of opportunity for self-directed PD is not frequently given in schools.
The start of the year has been exhausting – far more so than last year. Many hours have gone into preparing resources and working with leadership on the Wednesday sessions, along with ATLAS work, meetings and trying to get to work with teachers. I have my own full classes, a really cool opportunity with push-in learning support in G8 Science, family, MA Study, #MYPChat leadership, becoming an IB Educator (MYP school visitor), the MS Girls' Football season has just begun and there is more going on. Every stone unturned reveals more work that needs to be done – and I do need to try my best to meet everyone's needs as positively as possible.
But I still feel that it is all worth it. We are making progress as a faculty, becoming more 'can-do', more genki.
As DJ says, "we are responsible for our own culture," and it is a privilege to be able to influence that culture.